Beyonce op het Grammy podium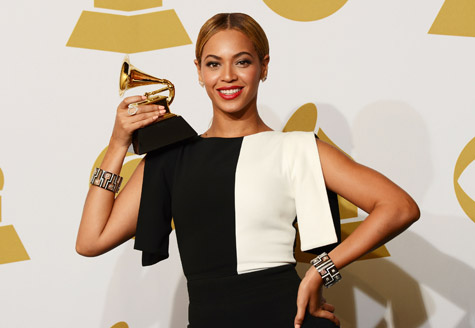 Volgens insiders zou Beyonce eind deze maand op het podium te bewonderen zijn tijdens de Grammy Awards. Dat zegt de Los Angeles Times. De krant meldt dat de 17-voudige Grammy winnares het podium zal betreden in het Staples Center. Het zal dan het eerste televisie-optreden zijn sinds de release van haar surprise-album, dat meer dan 1.5 miljoen keer over de toonbank ging in Amerika.
Producer Ken Ehrlich van de jaarlijkse show wilde niet toegeven dat Beyonce op het programma staat. Maar ook niet ontkennen. "Let's put it this way… We have a really great history that goes back to the early days of Destiny's Child," waarmee de producer eigenlijk toegeeft, zonder eigenlijk letterlijk iets te zeggen. Dat zal vast met een geheimhoudingsplicht te maken hebben. "I love working with Beyoncé. She's incredible."
Beyonce is genomineerd voor Beste Rap/Zang combinatie met 'Part II (On The Run)', waarop ze met haar mannetje Jay-Z is te horen.
Overigens staat niet alleen Beyonce op het podium van de Grammy Awards. Ook Kendrick Lamar, John Legend, Daft Punk, Pharrell Williams, Lorde en Robin Thicke staan onder andere op het podium.
De awardshow vindt plaats op 26 januari.