Wiz Khalifa support Amber Rose iedere dag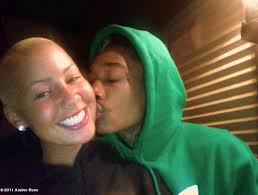 Wiz Khalifa en Amber Rose zijn langs Power 106 gehopt om te praten over hun aankomende kind. Over 5 weken is Amber uitgerekend.
Khalifa is net klaar met zijn tour en hij probeert zo veel mogelijk thuis te zijn om support te geven aan Amber. Ook zegt hij dat er nog meer video's komen van O.N.I.F.C en dat de volgende single 'Let It Go' wordt, met Akon.
"I'm at home full-time. I'm just working on videos for O.N.I.F.C., bringing that to life. We about to drop the group album as well. I'm really staying around because this is an important time for Amber. She needs that support."
De twee verklappen de naam van de kleine meid nog niet. Wel zegt Wiz dat hij een mannen baby shower wil organiseren voor een grote party met de boys. "I don't care what the hell ya'll drink," zegt Amber. "Drink it out of a bottle and bring some gifts."
Check het interview met Wiz Khalifa en Amber Rose hier.