Publiek ruïneert festivalterrein na afzegging Lil Baby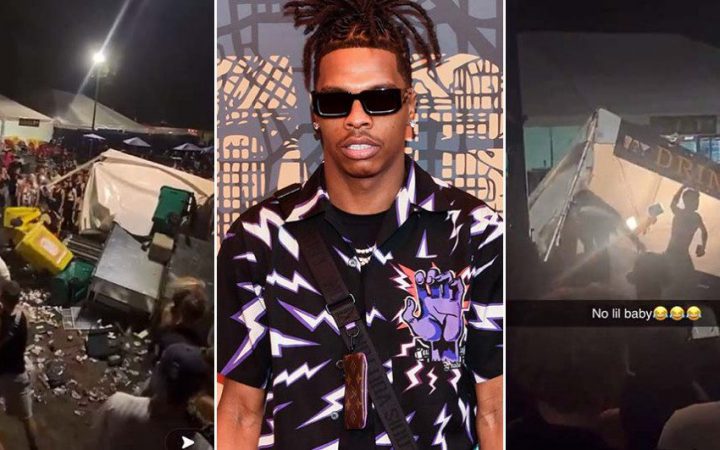 Lil Baby zou zondag optreden op het Breakout Festival in Vancouver, maar zegde dat optreden op het laatste moment af.
Fans waren daar op z'n zachtst gezegd niet blij mee en begonnen te rellen. Het PNE Amphitheatre bij het Hastings Park moest het ontgelden en werd geruïneerd. Er zijn tenten in brand gestoken, eettentjes omver gegooid, verschillende televisies zijn gestolen en kapot gegooid en er lag overal glas.
"We waited over an hour for him to show up, but he never showed up," zegt een fan. "Everyone started leaving but some people stayed back, obviously, and they started rioting and breaking all the tents and everything."
Lil Baby zou zondag optreden op het festival, waar onder andere Polo G, Cordae en Babyface Ray ook bij aanwezig waren.
Vandaag bood Baby zijn excuus aan. "I would like to start off by saying I truly apologize Vancouver Canada, The Breakout Festival And To Everyone Who was in attendance!" begint Baby zijn betoog. "I have been going so hard these past few months without any breaks that it finally caught up with me. And My Body Completely Shut Down I owe you guys big time and will for sure make up for it soon."
Ondertussen is Baby nog aan het werk aan zijn aankomende album 'It's Only Me', dat op 14 oktober moet uitkomen. Eerder deze maand bracht hij zijn nieuwe single 'Detox' uit.
Bruhh, Vancouver kids stupid as shit 😂 imagine causing a riot all because Lil Baby no showed Breakout Fest pic.twitter.com/wmQlSHweiL

— Seven Costanza (@Raavxhimself) September 19, 2022