Pornoster Christy Mack mishandeld door ex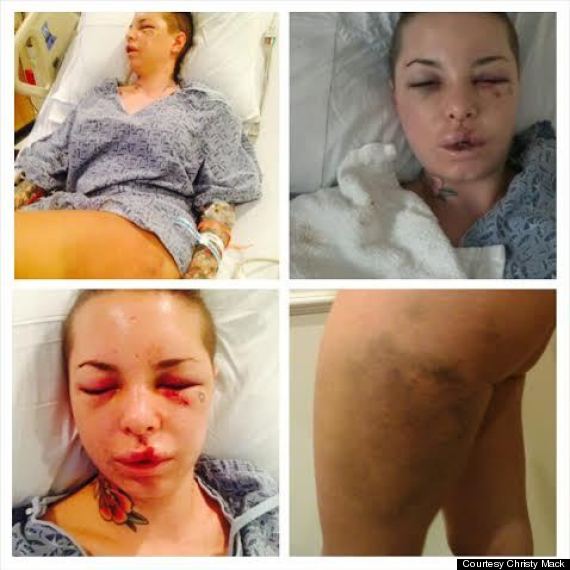 De welbekende 18+-actrice Christy Mack belandde vorige week in het ziekenhuis nadat ze hardhandig in elkaar werd geslagen door haar ex-vriend War Machine. Dat is overigens zijn echte naam. Tot 2008 heette hij Jonathan Koppenhaver.
Volgens het politierapport zou de 23-jarige pornoster op 8 augustus zijn aangevallen door de 32-jarige War Machine. Rond 01:30 uur spotte hij Christy in bed met Corey Thomas. War Machine en Christy Mack hadden een relatie, maar volgens het rapport zou Christy gezegd hebben dat die in mei was verbroken.
War Machine werd woedend toen hij de twee in bed vond en sloeg Corey in elkaar. Hij kon zichzelf bevrijden en beldde 911. Nadat Corey vertrok, werd War Machine agressief naar Christy en sloeg haar in elkaar. Zij zou zich hebben moeten uitkleden en War sloeg haar een aantal keer, met meerdere gebroken tanden en blauwe plekken tot gevolg.
While [Mack] was lying on the ground in the bathroom Koppenhaver told her "that's my pussy and I'm gonna take it back now." Koppenhaver then licked his hand and put it on her vagina. … Koppenhaver did tell her that he was going to rape her but he "could not get hard" and he was mad about it.
Daarna zou War Machine haar hebben bedreigd met een mes. Toen hij de keuken in ging om een scherper mes te zoeken, kon Christy Mack ontsnappen.