Uitgelekte audio: 6ix9ine was mogelijk doelwit van Nine Bloods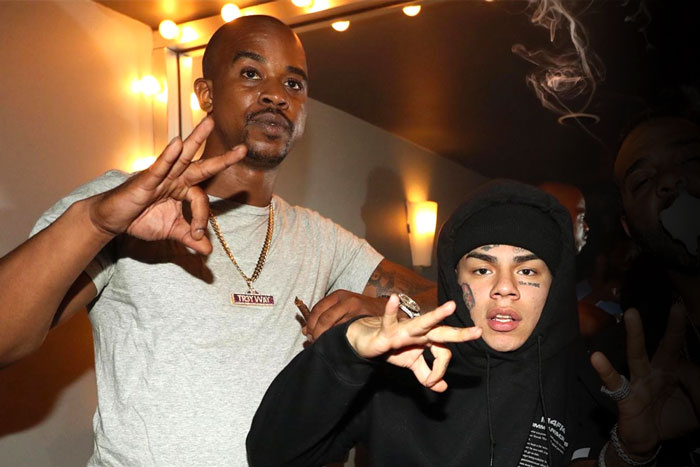 6ix9ine's manager stond op het punt om de rapper om te laten leggen. Dat blijkt uit een uitgelekte opname.
Op de opname horen we de stemmen van Kifano 'Shotti' Jordan en Nine Trey Gangsta Bloods lid Jamel 'Mel Murda' Jones. Volgens documenten is het gesprek opgenomen vlak na 6ix9ine's interview bij 'The Breakfast Club' in november 2018.
Mel Murda is overduidelijk niet happy met de rapper na zijn opmerkingen over de Nine Trey. "Don't try to act like it wasn't an even exchange. We gave you life and you tried to introduce us to the bag, more than what we was," zegt Murda. "F**k, you ain't make Treyway. We made you. You wouldn't be shit without Trey."
Mel gaat verder: "[6ix9ine] is trying to dry snitch at the same time, homie. But he keep saying, 'Fuck Treyway, Fuck that ni**a, Treyway. Ain't no Treyway. Fuck Treyway.'"
Shotti zegt op een gegeven moment: "I'ma feed him though." Het Amerikaanse OM is van mening dat Shotti hiermee zegt dat hij Tekashi wil omleggen.
Eerder deze maand kreeg Shotti 15 jaar gevangenisstraf vanwege zijn deelname aan de criminele organisatie en de misdaden die hij, samen met onder andere 6ix9ine, zou hebben gepleegd als lid van de Nine Trey Bloods. Tekashi stond vorige week in de rechtszaal om te getuigen. Daarbij noemde hij ook namen als Jim Jones en zelfs Cardi B.