Vader Tory Lanez woedend, noemt rechtssysteem corrupt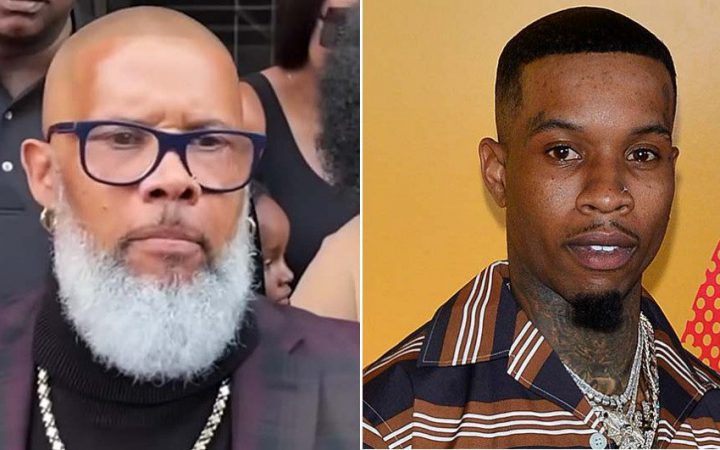 Tory Lanez werd deze week schuldig verklaard door de jury in de zaak waarin hij werd verdacht van het beschieten van Megan Thee Stallion.
De rapper schoot in 2020 meerdere keren in Megans voet, waardoor ze in het ziekenhuis moest worden geopereerd. Het OM klaagde de rapper daarna aan. Tory hield altijd vol onschuldig te zijn en gaf een vriendin van Megan de schuld.
Tory Lanez, die er overigens voor koos om niet zelf het woord te nemen tijdens de rechtszaak, kan hierdoor tot 22 jaar celstraf krijgen. Ook kan hij het land worden uitgezet. Officieel komt Tory uit Canada.
Na de uitspraak stond Tory's vader Sonstar Peterson op en schreeuwde meerdere keren door de rechtszaal. "God will judge you!" Verder noemde hij het rechtssysteem corrupt. Tory's familie werd daarna uit de zaal gezet.
"I just stood here in this Los Angeles county and witnessed the worst miscarriage of justice that this world has ever seen," zegt hij vervolgens buiten de zaal. Peterson had ook geen goed woord over voor Jay-Z en Roc Nation. "You who say you rose from the gutter, but you have traded and bartered the souls of young men and you're still doing it. Because my son refused to sign a Roc Nation deal with Jay-Z and Desiree Perez, you wicked witch, you snitch."
Tory's advocaat heeft inmiddels gezegd in hoger beroep te gaan tegen de uitspraak.