Overig Nieuws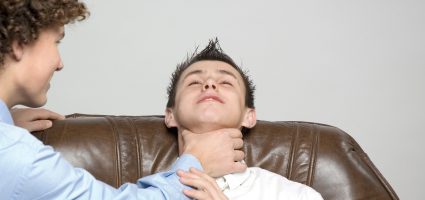 Nieuwe rage: high worden van keel dichtknijpen
Wereldwijd is een nieuwe rage ontstaan. En het komt steeds dichterbij.
Rages blijven niet bij 'gadgets', zoals een smartphone of een tamagotchi. Dit keer gaat het verder: je keel net zolang dichtknijpen tot je 'out' gaat en met een high gevoel wakker wordt. Ouders uit Amsterdam Zuidoost merken sinds kort dat de rage wordt overgenomen van Youtube. Een anonieme moeder vertelt: "Hij kwam binnen na het buitenspelen met wijd opengesperde ogen, ik dacht in eerste instantie dat het kwam van het voetballen of rennen. Maar de volgende dag was hij heel moe en had hij een heel traag reactievermogen. Toen pas vertelde hij dat hij het spel gespeeld had."
Young Works, een organisatie die onderzoek doet naar trends bij jongeren, is van mening dat de hype te wijten valt aan onvolgroeide hersenen. Hierdoor zijn ze impulsief en denken niet na over de gevolgen.
Het 'spel' is bekend onder meerdere namen, waarvan 'Fainting Game' en 'Choking Game' er twee zijn.
Facebook Comments