New Urban Flevo Flavour (NUFF) is back in town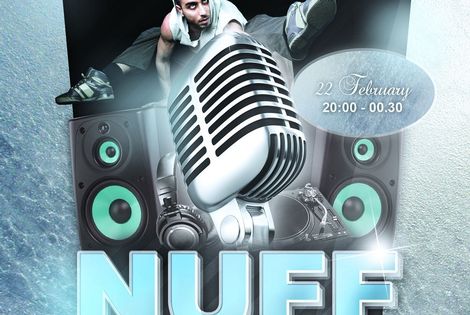 NUFF is een talent presentatie event voor nieuw talent en opkomende artiesten uit Flevoland. Diverse kunstvormen komen aan bod, zoals muziek, dans, theater, kunst, fashion en meer. Met een gevarieerde en vette line up is er voor ieder wat wils. Zo zijn er optredens van jong en opkomend talent, maar ook lokale helden zullen te zien zijn bij NUFF.
NUFF is er ook voor nieuw en beginnend talent en daarom hebben we driemaal op de avond open mic sessions. Er is een open mic met DJ en met live band en als afsluiting van de avond is er een open jamsession waarbij iedereen welkom is om z'n eigen freestyle skills te laten zien. De meest indrukwekkende open mic performance wint een demo.
Elk talent bij NUFF heeft sowieso gelegenheid om zich te presenteren aan een breed publiek maar ook aan talentscouts, evenement organisatoren, recordlabels, media e.a.
NUFF is the place to be waar je kan genieten van de hottest Flevo artiesten, talenten in alle styles, vormen en niveaus. De DJ's vullen het geheel aan met de lekkerste tunes. Ben je benieuwd naar deze sensatie, zorg er dan voor dat je erbij bent vrijdag 22 februari.
Evenement Info:
Date & time: Vrijdag 22 Februari – 20.00 till 01:00
Host: Sherlon Senchi & HurraKane the Soundzstorm
DJ's: DJ Los Carlos & DJ Acq
Live on stage: Artloca (theaterwerkplaats) – Dance4You (streetdance) – Undiscovered (allround band) – Sensikwal (reggae/worldmusic) – Logisch (hiphop) – Nosjeman (reggae/dancehall) – Rashanto & District Lyons Reloaded (reggae) – Samora (soul/dubstep)
Open mic support & jamsession band: Ladiesjam
Also available: Logisch Gear & Expo by Kenneth Neslo
Place 2 be: Getdowncafé Koopmanstraa 5 Almere Stad centrum
For more info: www.getdowncafe.nl & www.vvflex.nl