Music News

Chris Brown: "Kanye West is een CLOWN"
Chris Brown heeft het helemaal gehad met Kanye West. Breezy valt over de uitspraken die Kanye deed over slavernij. Op Instagram heeft hij geen goed woord over voor de rapper.
"THIS MAN IS A CLOWN! OUR SONG JUST WENT PLATINUM BUT FUCK THAT. PLEASE BLACK PEOPLE… DO NOT FOLLOW THIS NI**A ON HIS PATH TO DESTRUCTION! WHATEVER HELP U THINK I NEED… GET IT FOR HIM ASAP! IMA FAN OF THIS MANS MUSIC SO WHAT HE SAYS IS LISTENED TO AND INTERNALIZED. WAKE THE HELL UP KANYE…PLEASE. SLAVERY WAS A CHOICE???????? What??????"
Chris en Kanye werkten in het verleden al samen aan een remix voor 'DeucesR17; uit 2010 en Chris is te horen op Kanye̵7;s track 'Waves'.
Following 'Ye's controversial remarks about slavery and President Donald Trump, Meek Mill bids farewell. Taking to Instagram, he posted a memorial photo that reads: ""
Ook Meek Mill liet zich negatief uit over de rapper en schreef "R.I.P. 'Old' Kanye. We miss you." Het bericht van Chris Brown is inmiddels door hem verwijderd, maar we hebben de screenshots nog: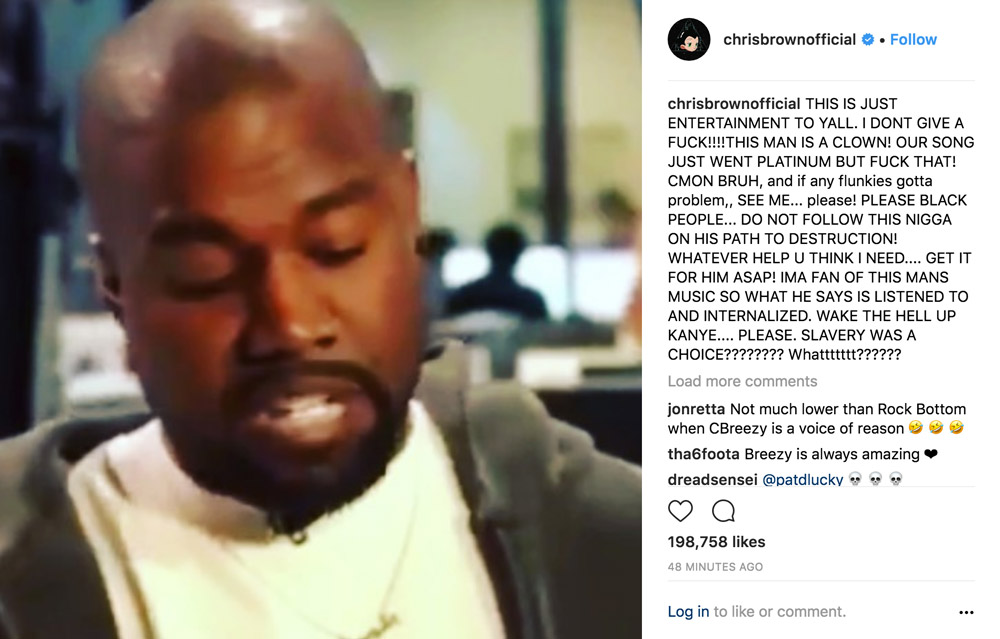 Facebook Comments