Zware storm legt festivals en openbaar vervoer stil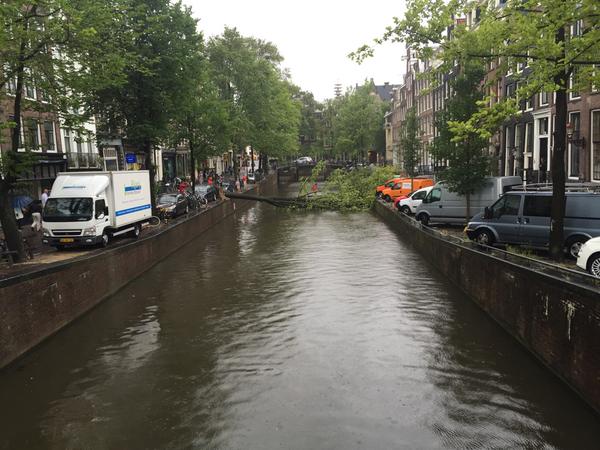 De zware storm die vandaag ons land teisterde heeft voor veel onrust en ongemak gezorgd. Festivals als Kwaku en Welcome To The Future werden vandaag stilgelegd en uiteindelijk afgelast. In eerste instantie ging Kwaku nog door en konden mensen het terrein betreden, maar al snel bleek dat geen goede keuze te zijn geweest. Bomen waaiden om en veel materiaal zoals hekken en tenten waaide weg.
"De stormachtige wind met zware windstoten, gecombineerd met regen en onweer, zijn voor ons evenement boven de kritische grens," meldt de organisatie van Amsterdam Live on Stage. Het festival zou worden gehouden in Sportpark Riekerhaven in Amsterdam. Mensen met een kaartje kunnen hun geld terugkrijgen.
Het KNMI heeft code rood gegeven wegens de storm. De buien barstten rond 14:00 uur goed los.
Ook het openbaar vervoer heeft last van het weer. Veel treinen vielen uit en in Amsterdam en Utrecht reden een tijd zelfs helemaal geen treinen vanwege bomen die op het spoor of de bovenleidingen waren gevallen. Ook de trams in Amsterdam reden niet, maar komen inmiddels rustig aan op gang.
foto: AT5