Young Thug krijgt drugs in de rechtszaal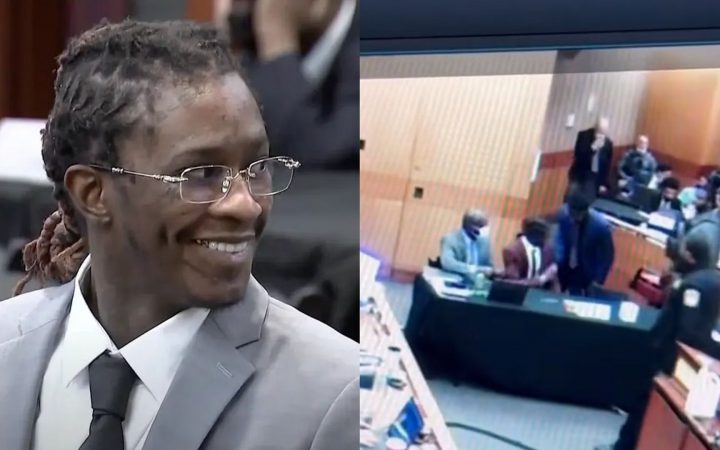 Dan heb je ballen hoor. In een overvolle rechtszaal een drugsdeal volbrengen. Maar dat is wel precies wat er gebeurde in de rechtszaak tegen Young Thug. Althans, als we de autoriteiten moeten geloven.
Terwijl Thug in het beklaagdenbankje zat, liep Kahlieff Adams, een medeverdachte in dezelfde zaak, naar hem toe en gaf hem een Percocet pil.
Young Thug laat via zijn advocaat weten dat hij geen idee had wat hij in zijn handen kreeg. Op de beelden is ook te zien dat hij de pil gelijk afgeeft aan een agent die naar hem toe kwam lopen.
Nadat de pil werd ingenomen, werd Adams meegenomen naar een kamer. Daar vond de politie nog meer Percocet, wiet en andere verboden spullen.
De autoriteiten melden dat Adams vervolgens naar het ziekenhuis werd gebracht, omdat hij een aantal pillen zou hebben ingeslikt. Maar volgens een getuige speelde er zich iets anders af.
"Shortly after Mr. Adams is taken to the back holding cells, while in the courtroom, the undersigned attorney, his client, and several other individuals could hear loud banging and yelling coming from the holding area where Mr. Adams was being held," schrijft de advocaat. "While the disturbance took place, several officers ran into the courtroom and went into the holding area where Mr. Adams was being held."
Volgens die getuige zou Adams getaserd zijn door agenten en daarom in het ziekenhuis moeten worden behandeld.
EXCLUSIVE: My colleague @MarkWinneWSB just obtained surveillance video that shows the moment prosecutors accuse Young Thug and his co defendant Kahlieff Adams of conducting a "hand-to-hand" drug deal in court.@wsbtv pic.twitter.com/smhVopvH7x

— Michael Seiden (@SeidenWSBTV) January 19, 2023