Music News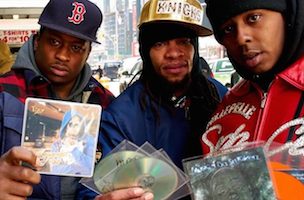 Straatverkopers slepen politie voor de rechter
Acht straatverkopers slepen de stad New York en een aantal agenten voor de rechter. Ze voelen zich in een hoekje gedreven.
Andre Jackson is 29 jaar en één van de rappers die meerdere malen werd gearresteerd. Niet één of twee keer, maar ruim 30 keer werd hij in de cel gegooid. "They don't want us making money out here."
Volgens de rapper zijn de agenten 'op hun pik getrapt'. "We're having fun out here. We're doing something we're allowed to do. I guess they had their dreams that they didn't fulfill. Now we have our dreams and they want to shut us down."
De politie van New York houdt geregeld acties en wil een herhaling van een incident in 2009 voorkomen. Daarbij raakte Raymond 'Ready' Martinez, een straatverkoper, betrokken bij een schietpartij met een agent.
Facebook Comments