Music News

Stewardess ontslagen om foto's van Rita Ora
De 25-jarige stewardess Charlotte Whittingham werkte tot voor kort bij Virgin Atlantic. Ze werd daar ontslagen omdat ze foto's had gestuurd naar haar vriendin, die ze vervolgens op Facebook zette.
De foto's waren gemaakt toen Charlotte zangeres Rita Ora tegenkwam. Charlotte's vriendin noemde Rita knap, flawless en een 'perfect olieverfschilderij'. "Ik gaf haar alleen een compliment, ik had nooit gedacht dat het zoveel effect op mijn werk zou hebben."
Twee weken later werd ze gebeld door de grote directeur. Of ze de foto, die voor al haar vrienden zichtbaar was, wilde verwijderen in verband met het schenden van privacy van VIP-passagiers. Zou ze dat niet doen, dan kon ze fluiten naar haar baan. De dreigende woorden van de directeur lieten Charlotte geen keuze. In tranen belde ze haar vriendin op, met de vraag of ze de foto wilde verwijderen.
Maar de schade bleek later te groot om nog te herstellen. "Uiteindelijk kwam het erop neer dat het management haar wijsmaakte dat het in haar belang was om haar baan op te geven. Charlotte denkt dat een collega haar heeft zwartgemaakt. Ze heeft geen idee waarom iemand dat zou doen," aldus een bron.
Charlottes leven is, na het opgeven van haar baan, naar eigen zeggen verwoest. "Het was mijn grote droom om deel uit te maken van het Virgin-team", schetst ze. "Ik ben een groot fan van Rita Ora, maar ik hield het professioneel op de werkvloer. Ik gaf haar alleen een compliment, maar had nooit gedacht dat het mijn werk zo in gevaar zou kunnen brengen."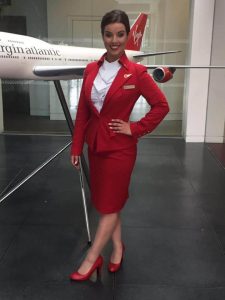 Bron: AD
Facebook Comments