Amber Rose NAAKT in GQ Magazine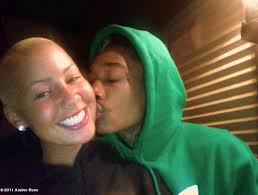 Amber Rose is naakt te bewonderen in GQ Magazine, maar is daar achteraf niet zo blij mee. De cover is mooi geworden, maar het magazine heeft niet zo heel veel positieve berichten over Rose te melden.
De blonde babe, die woensdag haar 32e verjaardag vierde, poseerde naakt voor het blad en deed een boekje open over haar succes, slut-saming en haar ex'en Kanye en Wiz Khalifa. Ook praatte ze over haar nieuwe boek 'How To Be A Bad Bitch'.
Misschien vraag je er ook wel een beetje om met zo'n titel. Ze haalde het mannenblad onderuit vanwege de 'negatieve berichten' en de manier waarop zij Amber wegzetten. "Really @gq??? I'm so much more then Kanye's Ex or Wiz's baby's mama. Damn, why the f— did u guys reach out to me for this article and photoshoot? To dumb me down? I talked about feminism and my Slutwalk… Wtf nice title smh I expected so much more from u guys and I'm so disappointed. I was so excited to be featured in GQ not realizing I was shooting for a tabloid."
De redactie van het blad heeft nog niet gereageerd op Amber Rose.
Maar goed, Amber Rose naakt is ook prima.