Vierde editie van BOSS 'all about good music'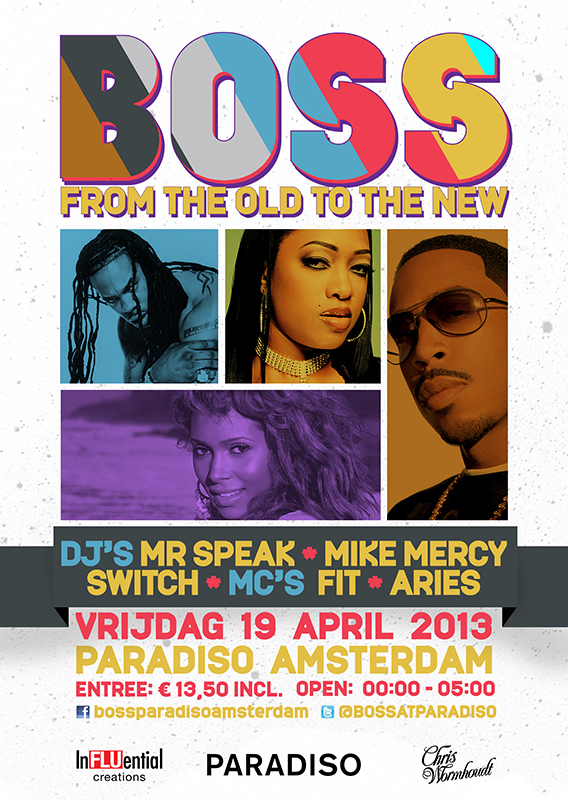 De BOSS "LADIES SPECIAL" was wederom een groot succes en uitverkocht. De vrouwelijke bezoekers zagen er stuk voor stuk prachtig uit, met als uitschieters de winnaressen van de felbegeerde BOSS goodiebags. Deze tassen ter waarde van €750,- waren gevuld met goodies van onder andere Christine Le Duc, Urban Chick with Brains, Kelly's en nog veel meer. Daarnaast was DJ Flava ook aanwezig om de dames nog extra in het zonnetje te zetten.
Op vrijdag 19 april zal BOSS in het teken staan van de beste HipHop en R&B van toen en nu. De vaste residents Joey Switch, Mr Speak en Mike Mercy begeleid door MC's Fit en Aries weten als geen ander hoe zij BOSS naar een next level kunnen brengen. Deze editie belooft net als alle andere avonden gevuld te worden met: goede muziek, gezelligheid en een top sfeer.
Met uitverkochte edities en optredens van Redman, Snoop Dogg, Busta Rhymes, Mr. Ed Lover, Big Daddy Kane en De La Soul is BOSS één van de meest succesvolle clubavonden van Nederland, met Paradiso als vaste thuisbasis. Onder leiding van het BOSS Team bestaande uit: DJ's Joey Switch, Mr. Speak, Mike Mercy en MC's Fit en Aries is BOSS een hele avond lang genieten van de beste, old skool hip hop en R&B. BOSS maakt haar slogan "From The Old To The New" helemaal waar. Swingbeat, de 70's, 80's, 90's en de beste tracks van het afgelopen decennium komen voorbij. De afgelopen edities van BOSS zijn om nooit te vergeten en als altijd ligt de nadruk op plezier, een geweldige sfeer, een enthousiast en leuk publiek en vooral goede muziek.
BOSS is een clubavond waar de eerste generatie bezoekers van Bassline – het langstlopende hip hop en R&B feest van Nederland – haar hart ophaalt. Daarnaast komen ook de jongere muziekliefhebbers aan hun trekken, hierdoor weten veel bezoekers van alle leeftijden de clubavond BOSS te vinden.
Vrijdag 19 april 2013
Lokatie: Paradiso Amsterdam
Grote zaal: BOSS 00.00 – 05.00 met DJ's Joey Switch, Mr Speak & Mike Mercy, MC's Fit & Aries
Entree: €13.50,- incl. lidmaatschap