PR manager Cardi B ruziet met fan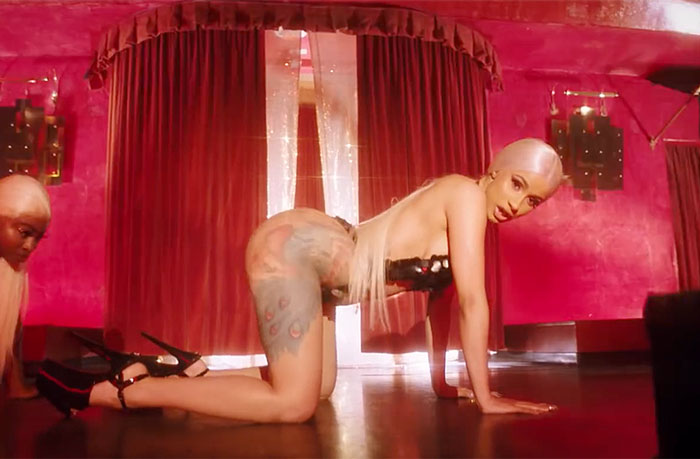 Cardi B's PR manager flipte gisteren toen een voorbijganger lelijke dingen zei tegen Cardi.
De 'Money' rapster was bij het vliegveld van Sydney in Australië toen paparazzi in de gaten kreeg dat ze op het vliegveld was. Eén van de aanwezigen wilde op de foto, maar dat weigerde Cardi B blijkbaar. Daarop zei de vrouw "No wonder your husband left ya."
Cardi's PR manager Patience had daar geen vrede mee en viel uit. "Bitch, I'll smack the shit out ya. Don't ever come out your mouth about her motherfuckin' husband… Watch your mouth!" Ze werd weggetrokken door Cardi's bodyguards.
While at the airport in Australia, Cardi B's publicist lost her patience with a woman who told Cardi, "no wonder your husband left you" after she didn't take a photo with her. pic.twitter.com/WiMaAorRVR

— Pop Crave (@PopCraveNet) 30 december 2018
Cardi B was later op Instagram Live met een verklaring over het incident. "This old lady keep asking me for a picture… I'm literally covering my face. Then she says something rude, disrespectful to me, like, 'Oh, that's why your husband cheated on you.' And that's when my publicist got in her face."
"She acted like she was so scared, like a victim—'Oh my God, oh my God!' This the type of shit that people be doing and then when cards be getting called, we be looking like fucking animals, bro…because people provoke you and say crazy things."
Cardi is in Australië voor een aantal festivals, waaronder Origin Fields gisteravond. 'Field Day' staat op Nieuwjaarsdag nog op de planning. Daarna vliegt Cardi naar Nieuw-Zeeland voor het Bay Dreams festival op 2 en 4 januari.
Cardi B addressed the incident and talked about a remark made by a paparazzo ("You're in Australia, it's our rules not yours buddy") that "didn't sit well" with her in an Instagram live. pic.twitter.com/AEEHPt77d0

— Pop Crave (@PopCraveNet) 30 december 2018