Ne-Yo en Celine Dion schieten video voor 'Incredible'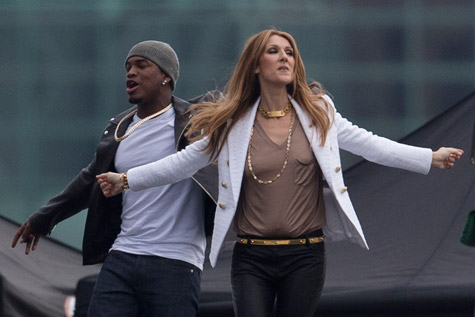 Ne-Yo en Celine Dion doken voor de camera voor de opnames van hun single 'Incredible', afkomstig van Celine's album 'Loved Me Back To Life'. Het Amerikaanse 'Good Morning America' was afgelopen week aanwezig op de set: een dak van een gebouw in L.A.
Celine's 13-jarige zoon René-Charles Angelil daagde zijn moeder uit voor een samenwerking met de R&B-zanger. "He said, 'Mom, you don't even have to listen to the song. You have to do it," en zo geschiedde. Ne-Yo had er wel wat moeite mee. "You know, it's Celine Dion."
De zangeres heeft een hoop kunnen leren van Ne-Yo. "Ne-Yo, among other artists, gave me the chance to still be the best of myself with a little bit of tweaking the sound, on a modern approach."
Het is niet de eerste keer dat ze samenwerken. Ne-Yo schreef eerder al liedjes voor Celine Dion.