Music News

Convex Kafka maakt ruzie met 'Catwoman'
Rapper Convex Kafka heeft op Twitter beef met iemand genaamd 'Catwoman', de anonieme persoon noemt zichzelf 'Betrokken Nederlandse, Atheïst, Islam criticus, politiek betrokken en op zoek naar verwerpelijke zaken! ANTI RAPPER KAFKA' op de sociale media.
De beef begon toen Kafka een tweet stuurde naar Peter R. de Vries nadat de mysterieuze 'Catwoman' de rapper en zijn kinderen bedreigde. Dat vond Catwoman 'snitchen' en dat kan natuurlijk niet. Oog om oog, tand om tand. Zo los je zaken op.
RAPPER KAFKA @Convex_Kafka IS OFFICIEEL EEN SNITCH. SCHAKELT POLITIE IN UIT ANGST!!!!

— It's The Donald (@Catwoman_fan_mi) July 8, 2016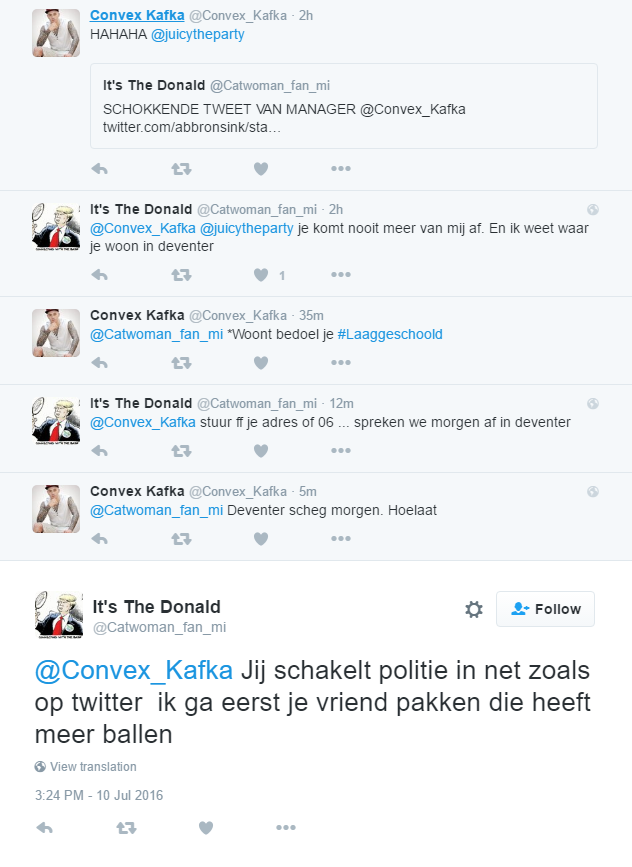 Check vooral de wijze waarop 'Catwoman' eerst aangeeft te weten waar Kafka woont en daarna een 'adres of 06' vraagt. Typisch gevalletje van ruziezoekers veilig achter een computerscherm.
Facebook Comments