2 Chainz over zijn 'armed robbery'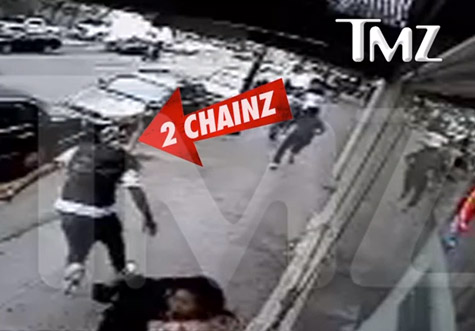 2 Chainz kreeg het een tijdje geleden erg zwaar toen hij door een paar mannen onder schot werd genomen. In eerste instantie ontkende hij het, maar er doken videobeelden op die via TMZ naar buiten lekte.
Bij het Amerikaanse radiostation Hot97 doet de rapper voor het eerst na het incident zijn verhaal. "I saw the gun first. It was like a .357. It was so heavy he couldn't really hold it. The gun was so big. That's what made me take off running." In eerste instantie had de rapper niet door wat er aan de hand was, en dacht zelfs dat het om een grapje ging. "When I went into the street, there was another dude with a whole other gun. That's when I knew it wasn't like an episode of Punk'd."
De politie was snel ter plaatse, maar 2 Chainz weigerde om mee te werken. "It was a misfortunate accident. I didn't fill out a report. I don't think they were trying to rob me. They really was just busting on me on some real stuff. At the end of the day, it's just a part of me growing as an artist, me becoming more pop, me becoming a superstar."
Door dit incident heeft 2 Chainz besloten om zijn beveiliging aan te scherpen en meer bewakers aan te nemen.
De beelden zijn te vinden bij onze eerdere berichtgeving.