Facebook brengt Youtube-concurrent Watch naar Nederland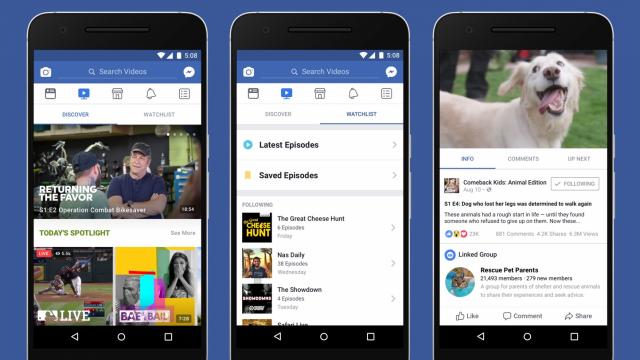 Facebook begint met de uitrol van zijn videoplatform 'Watch'. Precies een jaar geleden startte het social media-platform met het videoplatform en rolt deze nu ook uit naar Nederland.
Watch onderscheidt zich van concurrenten door de nadruk op social en interactiviteit. Kijkers kunnen hierdoor bijvoorbeeld hun mening geven of meedoen aan een interactieve quiz of
Als voorbeeld noemt Facebook een programma waarbij de kijkers samen stemmen op belangrijke beslissingen van het hoofdpersonage in een serie. Het verhaal volgt dan het pad dat de meeste kijkers kiezen. Ook kent Watch een functie voor het samen met vrienden of andere liefhebbers kijken van programma's. De Facebook-vrienden komen dan samen in één chat, waar ze het programma gezamenlijk kunnen bespreken.
Het kan enkele dagen duren voordat Watch voor alle Nederlandse Facebook-gebruikers zichtbaar is. Vanaf september worden in Nederland videoadvertenties in Facebook Watch getoond.