Event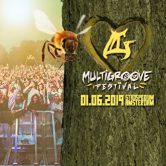 Multigroove Festival
Location:

Amsterdam

Venue:

Stadspodium

Time:

03:00 pm – 11:00 pm
De gebeden zijn gehoord! Multigroove Festival komt terug op zaterdag 1 juni 2019 op het Stadspodium in Amsterdam.
Het Multigroove Festival wordt gehouden op een steenworp afstand van de Elementenstraat. Hier ligt namelijk het Stadspodium Amsterdam. Hier gaan ze de beruchte legacy voortzetten in de vibe van The Summer Garden party, The Nature Party, The Picknick Party, Volume festival, Multigroove at Dance Valley en de reeks Koninginnedag feesten.
Locatie:
Een gezellig terrein, niet te groot, niet te klein. Een sfeervolle ambiance, een goed geluidssysteem, bereikbaar maar toch lekker weggestopt, geen mega producties met torenhoge entreeprijzen maar Multistyle, all about the music, het Multigroove gevoel.
Line-up Multigroove Festival:
Uiteraard mogen jullie het allerbeste op het gebied van Oldstyle, Techno Classics, Rave, Acid, & Early Hardcore verwachten, gebracht door onze eigen Multimasters.